10 Things You Shouldn't Do in Excel
Flip eBook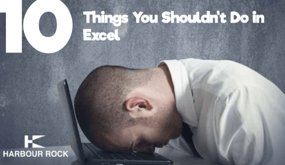 Excel seems like an easy way to manage your data, but many things can go wrong – overwritten data, uncontrolled manipulations by multiple users, and too many versions of the same document.
This eBook outlines the top 10 things you should NEVER manage in Excel and the ramifications of doing so, including problems with:
Bank reconciliation
Purchase orders
Check registers
Cash flow statements
... and more.


After reading this eBook, you'll know which 10 management activities you shouldn't manage in Excel and how it will negatively affect your business if you do.
Ready to Receive the Flip eBook?
Please complete the form on this page to have our easy-to-read flip eBook delivered immediately to the email you submit on the form.