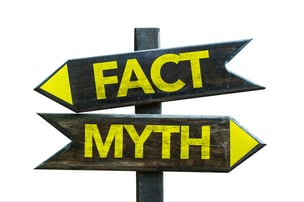 Businesses don't always have CFOs, often because they either don't need a full-time CFO quite yet, they're in a CFO transition, or can't afford a full-time CFO. Any business, however, can benefit from a CFO's abilities. A recent trend – outsourced CFOs – has surfaced to address this issue and involves hiring a CFO on a part-time, temporary, or need/project-based basis. For business owners, an outsourced CFO can offer many things: preparation for an audit, strategic financial advice, minimizing tax liability, cash flow consultation, and more.
Some companies have never heard of outsourced CFOs, however, and other companies choose not to take advantage of them because they don't understand the benefits or have fears about it.
Here are 3 common misconceptions about outsourced CFOs and why they're wrong.
Outsourcing is too Costly for my Small Business
That's actually the point of an outsourced CFO – it gives small and medium-sized businesses someone to turn to when they can't afford a full-time CFO's salary, benefits, and paid vacation time. Also, as we mentioned before, sometimes a small or midsized company only needs a CFO at certain times, like tax time or for a year-end inventory count. An outsourced CFO offers such services on a part-time, as-needed basis with a smaller price tag than an in-house CFO.
Outsourcing My CFO Means I Lose Control
This is one of the most common worries about outsourcing the CFO function, but again, the opposite is true. An outsourced CFO is part of your team, but on a fractional basis – their job is to evaluate and advise. How much decision-making authority they have is ultimately up to your executive team to decide. And, an outsourced CFO offers more control in other areas: small business owners and their teams can focus on bringing in new business and perfecting their strategy and customer service, all while being confident that someone skilled has their back.
An Outsourced CFO Won't Understand my Business
Every business is unique, that's indisputable; however, you can rest assured that an outsourced CFO will have experience in and worked with other companies in your industry. And this is good, as it allows them to offer insights you might never see – it's common for small business owners to have a hard time viewing their own business objectively. An outsourced CFO will step in with fresh eyes regarding anything from following regulations, improving processes, offering better customer service, identifying new industry trends, and the like.
Truly, the benefits of an outsourced CFO are undeniable: you can get the expertise you need, when you need it, for less money and without losing control. And ultimately, all decisions are yours to make – but you can make smarter ones now that you have an expert financial strategist advising you.
We understand that your accounting problems are unique to your business and why an outsourced CFO may seem like a foreign concept – that's why our initial consultation involves examining your goals and needs as well as the issues and challenges you're facing. Armed with that information, we'll develop a customized plan that works best for you – we know there's no such thing as one-size-fits-all.
Whether you need a part-time CFO because you're starting a new project, waiting until you can afford a full-time one, or filling in the gap until you replace a retiring or relocating CFO, outsourcing could be the answer – and Harbour Rock is here to help. Contact us today or visit our website to see how we can help you.