Expanding your business geographically will grow your sales portfolio and revenue while also creating a more extensive brand awareness. Before you begin, however, there are some fundamentals to cover.
Choose a Location
Don't randomly choose a location to expand into – do your research first. Consider the markets you're most interested in to determine: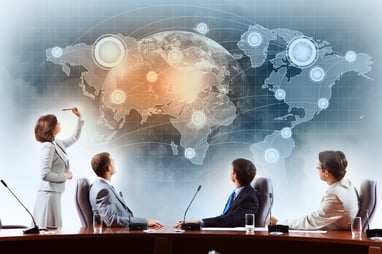 Potential profitability
How difficult it would be to gain a 'foothold' in that market
The approximate cost of property/rent/taxes in that location
Examine demographics to see if your target audience lives there, talk to real estate agents, look up local taxes, etc. Finally, weigh the existence of your ideal client against your budget – even if a location seems rife with potential clients, high real estate costs or taxes might mean it's time to research a new location.
Plan Finances
Now that you've chosen a location, it's time to dig deep into the money part of an expansion. Expand upon the information you found when searching for a location by doing more specific research – a different neighborhood might be less expensive for you but might be an area clients are reluctant to visit.
Unforeseen costs are impossible to prevent, but try to forecast the cost of expansion. Consider:
Employees – is it less expensive to relocate team members or hire locals? (Don't forget to factor in training, benefits, and vacation.)
Technology – do you have a software as a service or cloud-based system that will require simply purchasing new licenses for new users or do you have an in-house system that will require the purchase of new hardware?
The physical moving process – how will you get your stuff from here to there?
Material items – if you have a warehouse, will you transfer product there until you recoup some of your moving costs or do you plan to stock it with new product? Will you transfer things like desks, chairs, paper clips, etc. to a new location or purchase new ones?
Prepare a Marketing Strategy
If your research is thorough enough, you can make a relatively accurate decision about your initial marketing budget. As we mentioned, expanding into new territory is a great way to boost awareness of your brand, but it won't happen by itself. Because moving is expensive, your initial marketing budget may be smaller than you'd like, so start with the more inexpensive methods – blogging, social media, and website updates announcing your new location. Your marketing team can also divvy up your budget between things like digital and local advertising, Facebooks Ads or AdWords, or pay-per-click advertising to reach the largest audience possible.
If this sounds like a lot of work, that's because it is – and it's even more work if you're expanding internationally. As you consider expansion, don't forget to consider getting help; even a well-equipped financial team probably doesn't have experience moving into new geographic territories.
Harbour Rock can help. Our CFO resources have experience with business expansion and can be an integral part of your team, smoothing the path to getting your business up and running in a new location. Check our geographic expansion page to see how we can help or contact us for more information.
# # #
About Harbour Rock
Our outsourced CFOs are experienced professionals who offer expertise to business managers, including detailed insight into financials that allow you to make better business decisions; we also guide you through financial issues so you can spend time on growth instead of administration and overhead. By taking a proactive approach, together we can identify risks, evaluate options, and implement solutions at a cost that is well below the benefit. Learn more by visiting our website.