While you're scouting for companies to acquire, you need someone comfortable with due diligence on your team. You're in the business of investing in risk, but the portion of risk linked to getting bad company information is minimizable.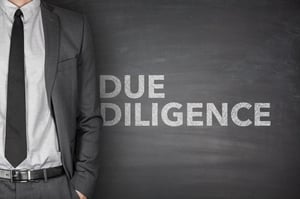 Possibly the most critical step when acquiring a company, due diligence involves digging deep into a company's accounting to get the real financial view – the one that will determine the risk of a purchase. Engaging a fractional CFO (or also known as an outsourced CFO) to review the financial statements and other relevant documents is the best way to ensure you're building the best deal for both sides.
What's the Due Diligence Process?
The principals in companies being considered for acquisition rarely have their documentation maintained or up-to-date – it may even be non-existent – and tracking it down and organizing it is time-consuming and sometimes frustrating. Unfortunately, it's a necessary process, as it's the only way to make a smart investment decision; it makes financial sense to outsource this function so you can grow your portfolio while our fractional CFOs handle the due diligence.
A Due Diligence Checklist
While each acquisition has different due diligence requirements, following are several items your CFO will delve into before you sign on the dotted line: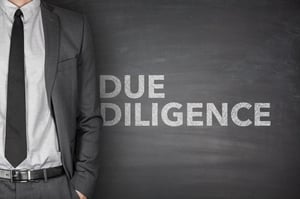 Strong growth potential: Does the prospective company have a significant market size that's on a growth trajectory?
Industry: Is the industry an attractive one you've invested in?
Strong existing team: Does the C-suite have a concise vision, passion, and focus for the company? Do they exhibit deep industry knowledge? Is their team made up of influential directors, advisors, and existing investors?
Intellectual property: Are all company trademarks, patents, and copyrights filed with USPTO and up to date?
Sustainable competitive advantage: Does the company have advantages that will help them innovate and stay ahead of the competition?
Solid metrics: How are their year-over-year revenue growth, EBITDA, cash flow statements, and other key financial metrics?
Favorable risk/return profile: Is your outsourced CFO confident in the company's business plan projections?
Non-competitive: Does the company compete with your existing portfolio companies?
A Good CFO Helps You Make the Right Acquisition Decisions
These are only some things you should review during the due diligence period of an acquisition. Schedule a free consultation today to get a better understanding of the due diligence process and learn how Harbour Rock can help you before, during, and after that process. We have the experience and expertise to help your business grow.
# # #
About Harbour Rock
Our team is comprised of experienced professionals who offer expertise to business managers, including detailed insight into financials that allow you to make better business decisions; we also guide you through financial issues so you can spend time on growth instead of administration and overhead. By taking a proactive approach, together we can identify risks, evaluate options, and implement solutions at a cost that is well below the benefit. Learn more by
visiting our website
.