So who watched that NFL AFC Wildcard Playoff game last Saturday night? The 6th seed Tennessee Titans marched into Gilette Stadium in Foxborough and upset the 3rd seed New England Patriots on their home turf. I considered it one of the best games I had watched in a long time. I saw precision. I saw few (if any) mistakes on either side. I saw a war between a coach who could arguably be considered one of the greatest coaches of all time, and one of his former players returned as a head coach. So why am I talking about this on a business-related blog? We'll get to that...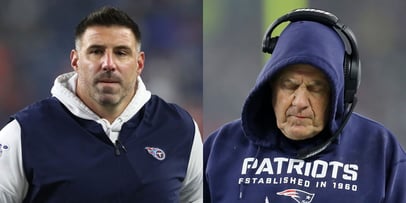 The game was extremely close with only a single point between them with 6:39 left in the game. And that's where things got interesting. Tennessee Coach Mike Vrabel had a choice to make whether to retain possession and try a risky play or give the ball away while putting the Patriots in poor field position. He opted for the latter, but not before deciding to take a delay-of-game penalty followed by a false-start penalty. At the end of the game, he had effectively erased almost two minutes of time off the game clock without really having to do anything. While going up against a hall of fame coach and his hall of fame quarterback, eliminating the available time for a comeback seems like a pretty smart move.
So Why is Coach Vrabel Like A Fractional CFO?
Coach Vrabel acted like a fractional CFO because fractional CFO's are all about strategy. Learning from past experience, seeing opportunities and finding ways to capitalize. Knowing the rules in advance and preparing for different scenarios. Coach Vrabel's decision to delay the game was utilizing the same loophole that his rival coach had taken advantage of just a few months earlier against the Jets. He knew the rules, planned his move and it turned out to be the right decision. The decrease in available time contributed to the Patriots' inability to mount one of their long-familiar winning comebacks.
Companies utilize a fractional CFO in a similar way for financial strategy, planning and oversight. Preparing for different scenarios and making sure the company knows the rules and what they can (and can't) do. Many companies that utilize fractional CFOs are at a point in their growth where they need the extra expertise but can't afford to hire someone full time. Fractional CFOs are perfect for this situation because instead of receiving a full-time salary and benefits from you, they're generally paid by the hour or by the project and their benefits are covered by the company they work for. Fractional CFOs may also work remotely, requiring no office space.
Fractional CFO's are all about strategy, and so was Coach Mike Vrabel of the Tennessee Titans. Congratulations Coach - looking forward to next week!
Find the Right Fractional CFO
As with any position in your company, it's important to find the right fit. Not all individuals claiming to be fractional CFOs are qualified or trustworthy – two critical characteristics for someone handling your finances. A good fractional CFO has experience from working with multiple companies in multiple industries at various stages of development.
For high-quality fractional CFO services, contact Harbour Rock. They provide CFO services on an as-needed, contractual basis as well as provisional or temporary services. Their seasoned professionals can help you deal with your problems, grow your business, and/or fill the gap left by a valued employee.
# # #
About Harbour Rock
Our outsourced CFOs are experienced professionals who offer expertise to business managers, including detailed insight into financials that allow you to make better business decisions; we also guide you through financial issues so you can spend time on growth instead of administration and overhead. By taking a proactive approach, together we can identify risks, evaluate options, and implement solutions at a cost that is well below the benefit. Learn more by
visiting our website
.