As your business grows, you'll probably ask yourself when – or if – you need a CFO. The key factor, according to Forbes.com, is whether or not you're getting the financial information you need to make important decisions without a CFO.
If you decide you need a CFO, you have two options: hire an in-house CFO or hire an outsourced or fractional CFO who works as a CFO consultant for your company.
Outsourced CFOs vs full-time CFOs: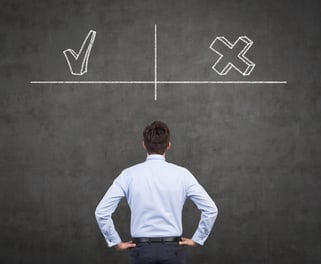 Advantages of a Full-Time CFO
You can trust that this person's first concern is the health of your company and that they'll never be distracted by the needs of another client. Because their focus is entirely on you, they may be able to see the "big picture" more clearly.
Disadvantages of a Full-time CFO
Cost. The median annual CFO salary (as of April 27, 2019) was $371,548 – not factoring in the cost of healthcare and other benefits.
The alternative is to outsource your CFO services, which means hiring someone to work for your company in a CFO capacity for a certain number of hours per month or year, or on a project-related basis (such as for an audit).
Advantages of Outsourcing your CFO
Cost. Outsourced CFOs don't command the high salary that in-house CFOs do; most are paid a fixed rate that's negotiated up front in the statement of work contract. In addition, you don't have to offer them healthcare benefits, vacations, bonuses, and the like. And lastly, you only pay for the time you need, which could be as little as a few hours a month.
Additionally, outsourced CFOs come into a job with an objective point of view and may be able to offer solutions that someone too close to the company – like an in-house CFO – might not see.
Disadvantages of Outsourcing Your CFO
You may feel uncomfortable giving the intimate financial details to a CFO you view as transitory, or you might be worried that a better opportunity will come along and sweep your outsourced CFO away.
Both in-house CFOs and outsourced CFOs offer the skills you need to navigate the complicated waters of your company's financial health. Outsourcing, however, is particularly useful for startups that can't afford a full-time CFO or for companies with a one-off project that requires CFO-level expertise.
# # #
About Harbour Rock
Our outsourced CFOs are experienced professionals who offer expertise to business managers, including detailed insight into financials that allow you to make better business decisions; we also guide you through financial issues so you can spend time on growth instead of administration and overhead. By taking a proactive approach, together we can identify risks, evaluate options, and implement solutions at a cost that is well below the benefit. Learn more by visiting our website.