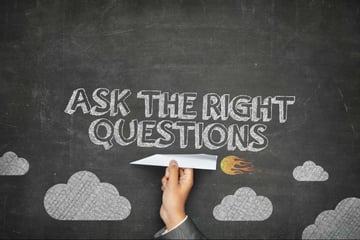 You've decided that an outsourced CFO to guide your company's finances is a cost-effective strategy; now you're on the lookout for someone who won't break the bank but who's also fully qualified and a good fit for your company culture.
Here are 5 questions to ask an outsourced CFO before you hire them.
Do you have experience in our industry?
While most companies are built on similar accounting and financial premises, industries have nuances that the CFO candidate should understand. If a candidate claims expertise in your industry, don't take their word for it – they should have clients or former clients who are willing to vouch for their work. Call those references to get an overall idea of the candidate's expertise level, work ethic, communication skills, etc. (It's imperative to call more than one, though – you might miss out on a great outsourced CFO because you called one bad reference and then stopped before you called the other 10 good references.)
How will you integrate yourself into our company?
It's impossible for an outsourced CFO to do a good job without transparency and integration. The outsourced CFO needs to know about changes to internal policies, procedures, and other management decisions. Luckily, even if the outsourced CFO is not local, advances in technology make it easy to stay connected – there are emails, telephone/conference calls, and text messaging, of course, but there are also more sophisticated options, including Skype, GoToMeeting, document sharing services, and task management tools. Ask the candidate if they use these options and, if not, are they willing to start.
What systems and processes do you use to improve our company's health?
An outsourced CFO candidate won't know specifics about how to help your business without getting involved in a review of your records and financial history. However, they should be able to tell you about what they've used for other companies that needed similar help, so ask the candidate about systems they've used with other clients. Software will likely be a big part of the answer, but specifically look for explanations about the procedures to show that the candidate has a detailed understanding of the principles involved. Ask specifically about systems/processes that have improved reporting, created or enhanced automation, developed more accurate forecasting, or simplified regulatory compliance efforts. If their response is limited, their range and adaptability may be limited as well.
How often do you report to us?
How often do you want them to report to you? You may be the type of business owner who wants daily correspondence with your consultants or you may be more hands off and require only a weekly update. Look for signs that the outsourced CFO is adaptable and willing to be responsive to your needs. Whatever your preference, a CFO should be prepared to update you and provide valuable insights on demand. They should be current on your company's status and progress against any plan in place. If your CFO candidate isn't willing or able to communicate as often as you'd like, they're not a good fit.
What's your exit plan?
We often joke that from the minute a client engages us, we're working ourselves out of a job. We could be filling the role of a recently retired CFO and will be released once they choose a new full-time CFO or we could be assisting in the establishment of a new growth plan that, once achieved, will lead the company to hire a full-time CFO. So while it probably seems weird to ask this question before you even hire someone, realize that an outsourced CFO should have a formalized plan that includes an expectation for ending the business relationship. Make sure that process includes safeguarding your confidential documentation and formalized processes, the return of any business assets, and the maintenance of a solid non-disclosure agreement, even after separation.
The decisions you make today will affect your finances well into the future, so ask the right questions of the people you're planning to trust. If you'd like more information about outsourced CFOs and how to find the right one for your business, contact the dedicated experts at Harbour Rock. We're here to help.