The average observer may consider the titles of 'Chief Financial Officer' (CFO) and 'accountant' to be interchangeable, but this is far from the case. In many instances, when talking to people about hiring a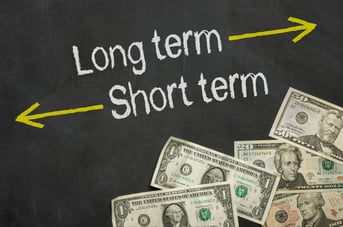 CFO, the most common question is "Can't I just have my accountant do this?" Seasoned business leaders know that the value each of these functions brings to the table is quite different, especially in how they contribute to boosting the business machine's success.
Whether you run a small or medium-sized business and think you need a CFO or you haven't thought much about it yet, you need to understand the difference between a CFO and an accountant.
Strategy vs. Tactics
While both of these initiatives are essential to build and run a success-oriented company, a CFO focuses on planning and executing a broad, all-encompassing growth initiative using industry knowledge, experience, and tactics. They serve as more of a visionary, pursuing long-term success through expansion, mergers, and capital investments.
Small business accountants tend to focus on smaller, shorter-term tactical actions that improve current results; their training is primarily in finding and correcting inefficiencies that affect the near-term, and they rarely focus on a long-term perspective.
Forward-thinking vs. Historical-thinking
As a member of the executive C-suite, the CFO plays a vital role in integrating with other C-suite members to implement large-scale, long-term actions like succession planning, financial planning, fundraising, and capital investment.
An accountant plays a vital role in those same actions by providing the daily, monthly, or quarterly reports that the CFO will use to evaluate current results and predict future results. He will also take a significant role in payroll, sales, and corporate tax compliance as well as potentially assisting in the internal and external audit process.
Planning-driven vs. Process-driven
CFOs focus on budgeting and planning to project costs, profits, protect company investments, and maximize shareholder value. He uses his experience to take information and navigate a business' success.
Accountants tend to be more structured and follow the necessary processes that result in the information a CFO needs. Important tasks that are immediately necessary, such as quarterly reports, tax information, and gathering/reviewing past expenditures, are processes typically tackled by an accountant.
Bigger Picture vs. Project-focused
A CFO maintains a 30,000-foot view of the company, surveying as far as his eyes can see. This gives him as clear of a picture as he can get and offers a birds-eye view of opportunities and threats and allows for forward-thinking recommendations.
The CFO can keep that 30,000-foot view because a dependable accountant accurately generates the reports used to determine the company's previous successes. The accountant also participates in special projects like audits and data analysis, assisting the CFO in staying focused on his or her 30,000-foot perspective.
While in the same realm of business and equally important to a company's success, there are key differences in the roles of a CFO and an accountant. Both are concerned with a company's financial well-being, but their focuses are different and the skillsets required to do their jobs tend to be different. Setting up an accountant to function as a CFO without proper training and experience can hinder a company's vision, growth, and long-range progress – it's best to make sure you understand the differences and plan appropriately.
Contact Harbour Rock for more information.